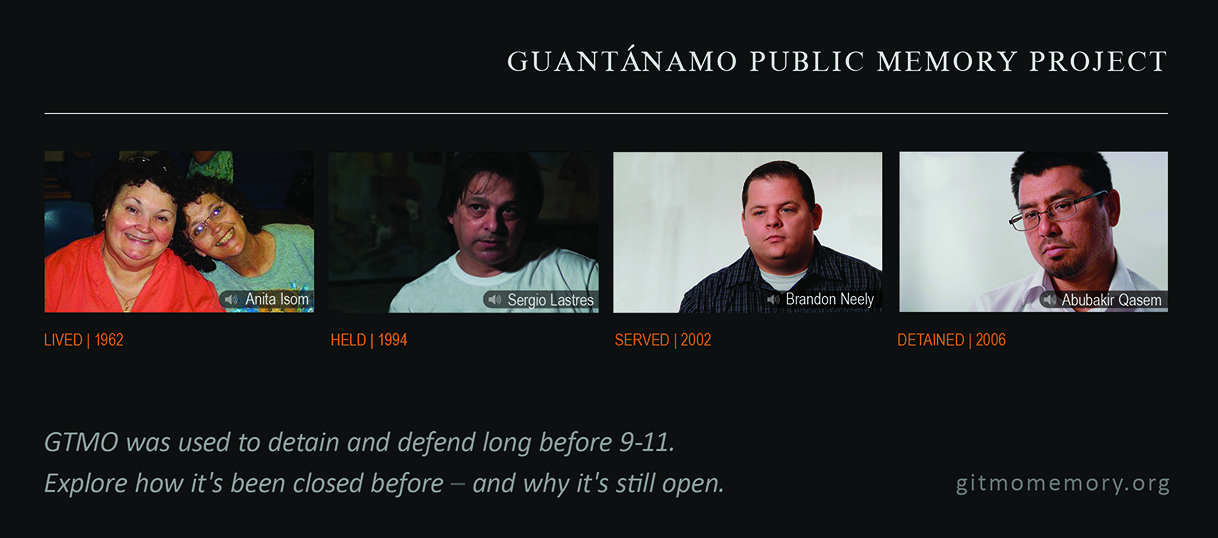 THE GUÁNTANAMO PUBLIC MEMORY PROJECT ON CAPITOL HILL
Guantánamo's been open for more than a century. As we struggle over Guantánamo's future, this popular exhibit is the first of its kind to ask what we need to remember about how it's been opened – and closed – before.
Through oral histories, images, and documents, the exhibit provides critical perspective on current debates through the human stories of GTMO's past – and who's still there. Attendees will hear stunning personal stories of who else it's been used to detain – and defend – in the first exhibit to explore GTMO's history and present. They will get a rare glimpse of GTMO today through remarkable video testimony of existing "enemy combatants" and the people who served at GTMO after 9-11.
The exhibit stands at the center of a massive national dialogue on GTMO:
Created collaboratively by students from 15 universities and over 600 people who served, lived, and were held at GTMO
Traveling to 17 cities around the country and the globe, with community dialogues at every stop
Viewed by over 400,000 people to date
Attendees will also hear the dialogues it's inspired so far in 11 cities across the country and around the world, and have the opportunity to shape the debate themselves.
Event sponsored by New York University
Special Guests:
Honorable Jerrold Nadler (D-NY)
Honorable Keith Ellison (D-MN)
Exhibit Venue
Rayburn House Office
Building Foyer
45 Independence Ave SW
Washington, DC
9am – 8pm
Exhibit open to public
6pm – 8pm
Reception with drinks and light fare
About the Guantánamo Public Memory Project
The Guantánamo Public Memory Project is a collaboration of 15 universities, led by Columbia University, that have produced a traveling exhibit, web platform, and weekly public dialogues on GTMO's past and present. The exhibition was designed by Picture Projects and the website was designed by Picture Projects in collaboration with Tronvig Group. For more information, please visit www.gitmomemory.org.