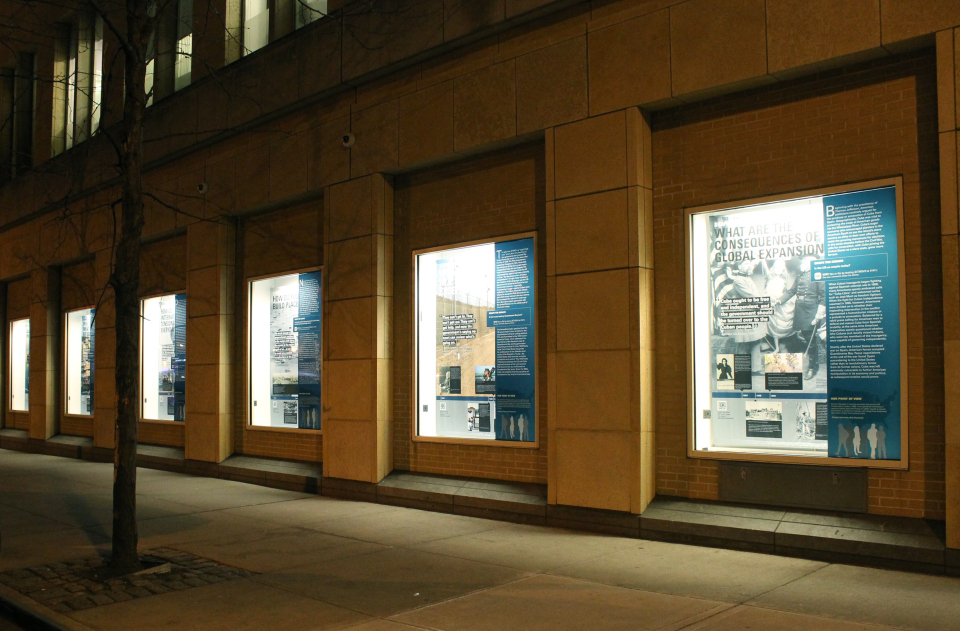 PROJECT LAUNCH — EXHIBITION, WEBSITE AND PUBLIC DIALOGUE ABOUT GUÁNTANAMO BAY NAVAL BASE: THE GUANTANAMO PUBLIC MEMORY PROJECT
We'd like to invite you to visit the exhibition and website of the Guántanamo Public Memory Project. NYU's Kimmel Windows is the first venue of 10 nationally, which will present the exhibition and national dialogue over the next two years. The project is a large collaboration among 12 partner universities and over 100 students and has been in development for two years. Picture Projects designed the exhibition and mobile dialogue platform and partnered with Tronvig Group to design the website.
Exhibit Venue
Kimmel Windows
LaGuardia Place & West 3rd / New York City
On view 24/7 through February 10
Website
http://www.gitmomemory.org
This project reveals the history of a place both infamous and unknown to most Americans: the United States naval station at Guantánamo Bay, Cuba and explores GTMO's history, from the US occupation of Guantánamo Bay in 1898 to today's debates about its future. Hear from people who worked, lived, served, or were held at GTMO from the Cold War through the War on Terror.
At a time when public memory of even GTMO's current use is fading, this exhibition brings stories from the base's long and complicated past to light. Visitors can hear from Sergio Lastres, who was one of 30,000 Cuban refugees held at GTMO from 1994 to 1996, and Anita Lewis Isom, who spent her childhood on the base in the 1960s. Visitors may listen to these oral histories and view more material by scanning QR codes on the exhibition panels with their smartphones. Visitors may interact with the exhibit, and each other, by texting "Yes" or "No" and adding comments to a series of questions on display, including "Is the US an Empire?" and "Should GTMO be used for refugees in the future?" A continually updated compilation of all answers is shown on a video monitor and on the website. On the website, visitors can also hear the voices of people from diverse periods and perspectives, explore the base through an interactive map, and view rare footage, photographs, and historical documents.
"Guantánamo" has become an international symbol of torture, detention, national security, and conflict. But the US Naval Station in Cuba, or GTMO, opened more than a century before 9-11. It has represented both freedom and confinement: the price of Cuba's independence from Spain, a "cactus curtain" containing communism, a treasured community for military families, a search for liberty behind barbed wire for refugees. New facilities at GTMO are under construction as legal battles continue over the 166 "enemy combatants" still held there. How did we get here? What should happen next? 
About the Guantánamo Public Memory Project
The Guantánamo Public Memory Project seeks to build public awareness of the century-long history of the US naval station at Guantánamo Bay, Cuba, and foster dialogue on the future of this place and the policies it shapes. The Project has developed a traveling exhibit, online story collection, curricula, public dialogues, and more through collaboration and debates with diverse stakeholders. First launched in 2009 by the International Coalition of Sites of Conscience, the Project is currently coordinated from Columbia University's Institute for the Study of Human Rights. Picture Projects provided creative direction for the project in partnership with Tronvig Group. The project was supported by the participating universities and by the Open Society Foundations, Libra Foundation, and the New York Council on the Humanities.
University Partners, Venues, and Exhibition Dates
February 18 – March 29, 2013: Rutgers University New Brunswick, Douglass Library
April 8 – May 12, 2013: Indiana University-Purdue University, Indianapolis Cultural Arts Gallery
May 20 – Summer 2013: University of California at Riverside, California Museum of Photography
September 11 – October 9, 2013: University of Massachusetts, Amherst, Herter Gallery
October 16 – November 29, 2013: Arizona State University, Tempe
December 6, 2013 – January 2014: University of North Carolina, Greensboro, International Civil Rights Center and Museum
February – March 2014: University of Minnesota, Minnesota History Center
April – May 2014: University of West Florida, Historic Pensacola Village
Fall 2014: Brown University, University of Rhode Island Providence Campus Gallery