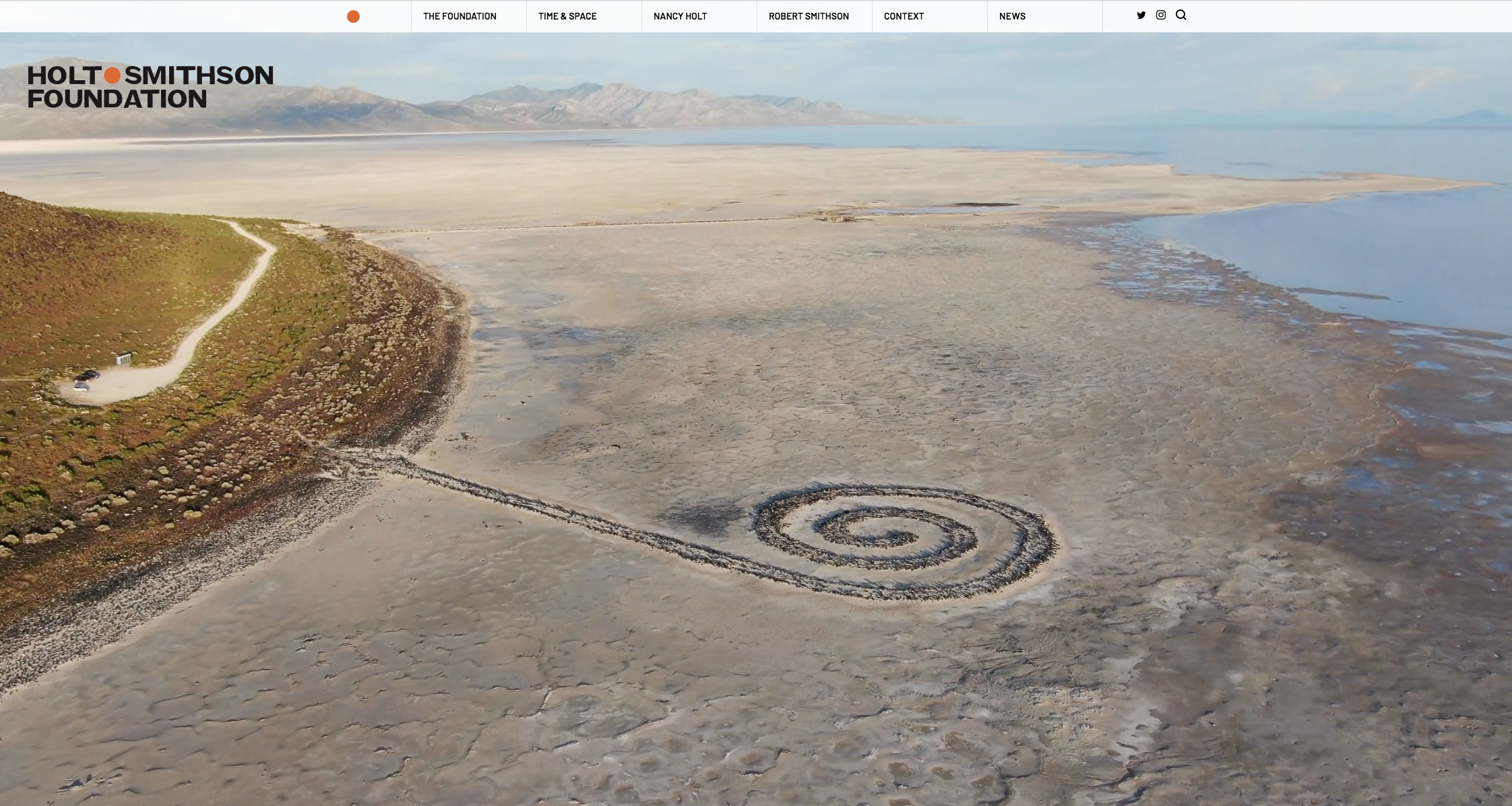 HOLT/SMITHSON FOUNDATION website launches
Earth Day seems to be the perfect day to share the latest web project we produced with the Holt/Smithson Foundation, an organization that exists to continue the creative and investigative spirit of the artists Nancy Holt (1938-2014) and Robert Smithson (1938-73). It has truly been a privilege to work with these two gifted artists' incredible #earthworks.

Explore the site at: https://holtsmithsonfoundation.org/
From the Holt/Smithson Foundation:
The website is dedicated to expanding research, knowledge, and dialogue about the ideas and work of Nancy Holt and Robert Smithson: two artists that recalibrated the limits of artistic practice.
We hope an online exploration of Holt and Smithson's earthworks, sculptures, drawings, collages, writings, audio works, and films will be an inspiring respite from these uncertain times. Holt and Smithson's investigations of perception, entropy, industry, time, and space raise questions that are profoundly urgent to our times.
Our website will exist as a living digital document and research hub that will grow with the Foundation. Incorporating learnings from the ongoing research by the international community of scholars who have closely studied the work of Holt and Smithson is at the core of our website.
Features on the site offer avenues for a multitude of different learning styles to study the work of Holt and Smithson: spatial learners might look to the timeline, map, and artworks; auditory learners can listen to our oral histories; and linguistic learners will enjoy the scholarly texts and writings by Holt and Smithson.
There are numerous hidden gems and layers of material to unearth on this site and we hope you will enjoy exploring. Look for new content on this site weekly—and we are always ready to focus on specific areas of interest to our website visitors. Ideas, suggestions, and questions are always welcomed. Our Foundation is dedicated to thinking with others.
Nancy Holt, "Sun Tunnels" (1973-76)
Great Basin Desert, Utah
Collection Dia Art Foundation with support from Holt/Smithson Foundation
Artwork © Holt/Smithson Foundation and Dia Art Foundation, Licensed by VAGA at ARS, New York
Video: Charles Uibel/Sun Tunnels
Photography Great Salt Lake Photography